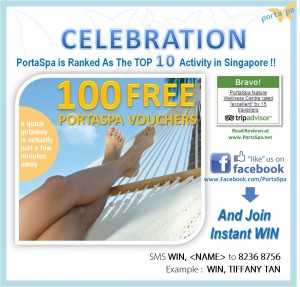 Portaspa is a Singapore limg_6921-300x287ocal Foot Reflexology Hydrotherapy Centre, using natural ultrasound foot massage to relieve stress, aches, pain, migraine, insomnia and burn calories!
Recently, Portspa has launched a new marketing campaign to celebrate their ranking in the top 10 activities to be done in Singapore by Trip Adviser.
Portaspa is using SMS instant win to give out free vouchers. It is an effective way of attracting customers, because customers like lucky draws, and businesses have a simple and effective way to 'capture' customers.
This is just an example of how business can use SMS marketing to get more customers.