Why GT Notify?
Ultimate Solution for any business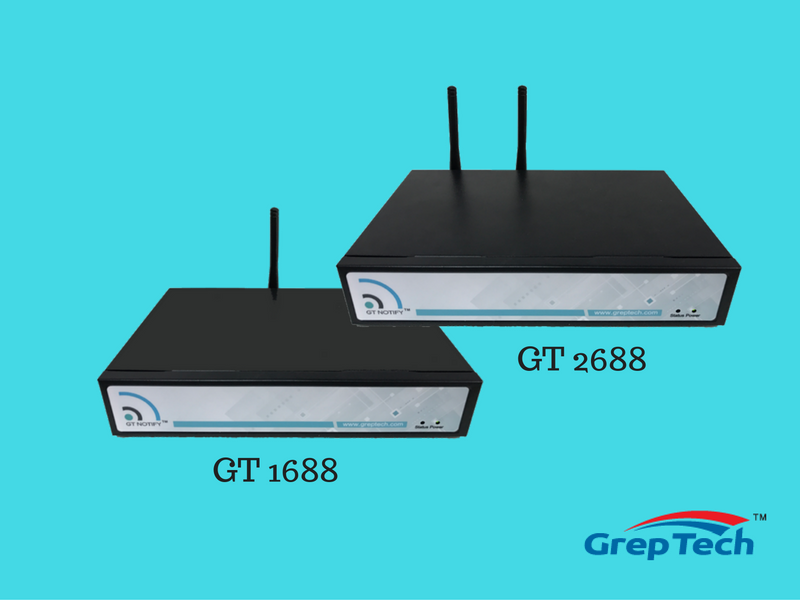 Looking for an all-in-one SMS solution that is easy to set up and use? Look no further than the GT Notify system from Grep Tech. Whether you're looking to launch an SMS marketing campaign, send event notifications, schedule reminders, send holiday greetings, or run an SMS auto-responder or auto follow-up campaign, the GT Notify system has you covered.
Unlike PC-based software or online web services, the GT Notify system is an all-in-one hardware and software solution, providing you with a dedicated SMS server that is ready to go right out of the box. All you need to get started is the GT Notify system and a SIM card.
Once you've inserted your SIM card, plugged in the power cable and network cable, and connected to the GT Notify system's IP address through your browser, you can begin managing your campaigns, auto-responses, auto follow-up, SMS instant win, templates, subscribers, and groups using the user-friendly web interface.
The GT Notify system runs 24/7, automatically responding to incoming messages and performing scheduled campaigns and other activities. And unlike other systems that charge 5 cents per SMS, the GT Notify system gives you the freedom to choose the best deal for your needs. Best of all, no PC is required, no software needs to be installed, no credit needs to be purchased, and no internet is required (except for downloading software upgrades). Your data is protected and secured within the GT Notify system, and there is no need to upload your database to the internet.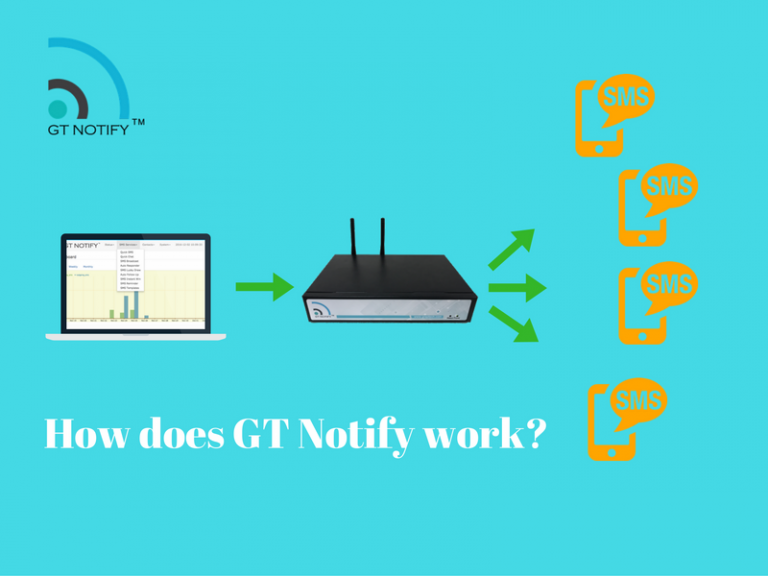 Looking for a marketing strategy that guarantees high engagement rates? Look no further than SMS marketing!
Why SMS?
Because it works! Here are some reasons why:
High open rates: Did you know that SMS messages have an open rate of 98%, compared to just 20% for emails? This means that almost everyone who receives an SMS message will read it.
Quick response times: Unlike emails, which may sit in someone's inbox for days or even weeks, SMS messages are usually read within minutes of being received. This makes SMS marketing a great way to promote time-sensitive offers or events.
Low cost: Compared to other forms of advertising, SMS marketing is relatively inexpensive. You can send a message to thousands of people for a fraction of the cost of a TV or print ad.
Not everyone reads the newspaper. Not everyone watches TV. Not everyone checks their email. But everyone reads SMS messages! Nowadays, people check their mobile phones all the time. Even while they are sleeping, their mobile phones are still within reach.
SMS marketing is the king of mobile marketing. With its high open rates, quick response times, and low cost, it's the most effective way to reach your audience.
Why Choose our GT Notify System?
If you're looking for a top-tier SMS marketing system that works across multiple industries, look no further than GT Notify. Our platform is ideal for businesses in a variety of sectors, including restaurants, spas, event organizers, schools, churches, clinics, property agents, insurance agents, and more.
What sets GT Notify apart from other SMS marketing systems is its accessibility and affordability. While similar technology may be limited to larger companies, our system is available to businesses of all sizes at a reasonable price point. Additionally, the GT Notify platform is the only all-in-one solution on the market, combining hardware and software in a single package for maximum convenience and efficiency.
We've invested significant time and resources into optimizing our system for the needs of businesses like yours. Whether you're looking to expand your customer base, drive sales, or promote events and specials, our system is designed to help you achieve your goals and grow your business.
Compared with the online web-based solution:
When it comes to automated SMS systems, the GT Notify platform offers several advantages over web-based solutions:
Dedicated system: Unlike online options that may be shared with other users, the GT Notify system is entirely dedicated to your business, ensuring maximum performance and security.
Data protection: With GT Notify, you retain full control over your customer database and don't need to upload it anywhere, eliminating the risk of data breaches or unauthorized access.
Customization: The GT Notify system lets you tailor your marketing campaign to your exact needs and preferences, without the restrictions and limitations that come with online cloud-based solutions.
Advanced features: With SMS chat, auto-responder, auto-follow-up, and other powerful features, the GT Notify system offers capabilities that are not available on most online SMS platforms.
Two-way communication: The GT Notify system enables you to engage in two-way or even three-way SMS conversations with your customers, using an SMS menu system that lets them self-serve. Online cloud-based SMS solutions typically offer only one-way messaging.
Cost savings: By sourcing the best telecom package and using GT Notify's multi-SIM card model, you can save money on SMS messaging and take advantage of on-net low-cost SMS options. Online cloud-based SMS solutions often charge per message sent, leading to higher costs.
Enhanced security: Because the GT Notify system is not exposed to the Internet, you don't need to worry about data theft, database sales, or account compromises. Your customer data and business information remain safe and secure at all times.
Compared with the PC + USB modem dongle based SMS solution:
When compared with a PC + USB modem dongle-based SMS solution, GT Notify offers numerous advantages:
No PC required: With GT Notify, there's no need to install any software on your PC, eliminating concerns about conflicts with existing software, viruses, or the need to dedicate a PC for SMS use. Instead, the system runs on its own and can be accessed via a PC browser only when you need to adjust settings or launch campaigns.
No computer virus concerns: GT Notify is a dedicated hardware + software system, so you don't need to worry about computer viruses affecting your PC.
Multiple user access: The GT Notify system can be shared by multiple users within your network, provided they have the password and are connected to the network.
Improved reliability: Unlike USB modem dongles, which can sometimes fail after just a few days, GT Notify is a much more reliable and stable system that can run non-stop for months or even years.
Designed for business use: GT Notify is designed to support business operations, working tirelessly 24/7 to help you auto-register subscribers, auto-respond, auto-follow up, send auto-reminders to subscribers, and launch scheduled SMS campaigns.
So, How SMS Marketing works?
SMS marketing is a powerful tool that lets businesses reach out to their customers via text message. It's a highly effective way to promote your products and services, and it's easy to set up and use.
To get started with SMS marketing, you need to build a list of mobile phone numbers. One way to do this is by using an SMS keyword. This is a word or phrase related to your business that you ask your customers to text to your GT Notify system. When they do, their phone number is automatically added to your database.
Once you have a list of subscribers, you can start sending them text messages with special offers, promotions, and discounts. Because people carry their phones with them all the time, SMS marketing can be a highly effective way to drive sales and generate revenue.
The best part about SMS marketing is that it's low cost. Receiving text messages is free, so you only need to pay for the messages you send. And because the GT Notify system runs continuously to collect subscribers' phone numbers, you can build your list over time without having to worry about managing it manually.
In summary, SMS marketing is an easy and effective way to reach out to your customers via text message. By building a list of subscribers and sending them targeted messages, you can drive sales and generate revenue for your business.
The All-In-One Automated SMS System for Businesses
In today's world, mobile marketing is an essential strategy for any business looking to increase its sales, improve its productivity, and outpace its competitors. And with the latest mobile marketing strategy, the GT Notify system, any SME can take advantage of this growing trend.
GT Notify is an all-in-one automated SMS system that allows businesses to capture and manage customer information automatically. With its powerful scheduling feature, businesses can communicate with their customers effectively and improve their customer service. And with the auto-responder and auto follow-up features, businesses can save time and money while still providing excellent customer service.
GT Notify is designed with the latest technology, making it affordable and accessible for businesses of all sizes. By investing in this system, businesses can comply with the PDPA Do-Not-Call (DNC) registry and improve their productivity, all while taking advantage of the government's push to boost productivity.
In conclusion, GT Notify is an essential tool for any business looking to improve its mobile marketing strategy and take advantage of the latest technology to boost productivity and stay ahead of the competition.
GT Notify System Package Consist Of :
1 x GT Notify system
1 x 5v,2A Power Adapter
1 x RJ45 Network Cable
1 x SIM Card Adapter
1 Year Hardware Warranty
Unlimited Software updates download from the internet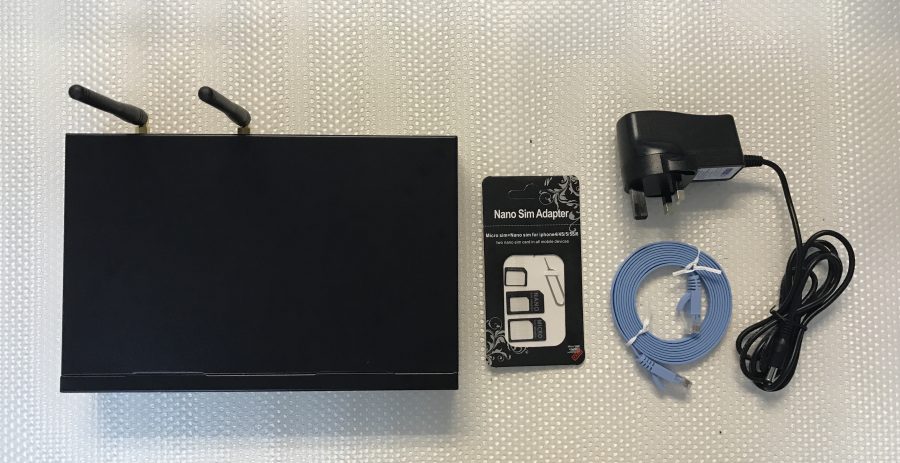 30-Day Money Back Guarantee*
*Only applicable in Singapore
Still not sure whether this product will work for you?
We understand that each business is different. To make sure you are completely comfortable with your investment, we have a 30-Day Money-Back Guarantee.
For whatever reason you want a refund, just send us an email, and we will collect back the system and return your money. It's that simple.