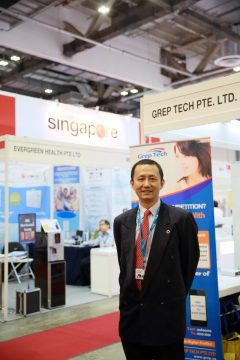 Dear Visitors,
Greetings and a warm welcome to Grep Tech's official website. My name is Robin, and I am the Founder and General Manager of the company. With my experience of working at renowned organizations like Hewlett Packard (HP) Singapore and Infocomm Development Authority of Singapore (IDA), I had a vision to establish a technology company that could create value for Small and Medium Enterprises (SMEs).
Grep Tech Pte Ltd was established in Singapore in July 2012, and in September 2016, we expanded our reach to the Cambodian market through our wholly owned subsidiary, Grep Tech (Cambodia) Co., Ltd.
Through my years of experience, I have observed that big corporations leverage advanced technology to stay ahead in the competition and operate efficiently. However, these technologies come with a hefty price tag and require specialized skills to manage them. This presents a challenge for SMEs, who might not be able to afford both the cost of the systems or software and the expertise required to manage them.
Grep Tech's mission is to bridge this gap by providing innovative technology solutions that enhance the operational efficiency and competitiveness of SME businesses.
We are pleased that you have taken the time to visit our website and hope that you find the information you are seeking. If you have any questions or concerns, please do not hesitate to reach out to us. We are here to assist and support you in any way we can.
At Grep Tech, we believe in the transformative power of technology and are dedicated to delivering exceptional solutions to SME businesses.
Thank you for considering us, and we look forward to the opportunity of serving you.
Best regards,
Robin
Founder and General Manager
Our vision is to see Grep Tech (GT) products been used in every business and every office.
Our mission is to create Innovate and Quality product with the best Customer Experience.