4G LTE Industrial Router R10
4G LTE Industrial Router R10
Industrial Class Design MIPS
CPU Clock Speed 580Mhz
Inbuilt Industrial 4G Lte Module
1*WAN/LAN,1*LAN,1RS485/232
WIFI: 2.4G,AP or Client, 802.11a/b/g/n; VPN: PPTP/L2TP
Protocol:IPV4/TCP/IP/PPPOE/DHCP/DNS/DDNS/NAT/HTTPS/ARP/FTP/telnet/SSH
Size: 90*86*28 mm
Rated Voltage: 7-35VDC.
4G Industrial router R10 is an industrial IoT high-speed router, compatible with 4G/3.5G/3G/2.5G network, flagship configuration, VPN link, industrial protection, wide temperature, wide voltage design, easy to set up high speed, stable The wireless transmission network uses the public LTE network to provide users with wireless long-distance data transmission.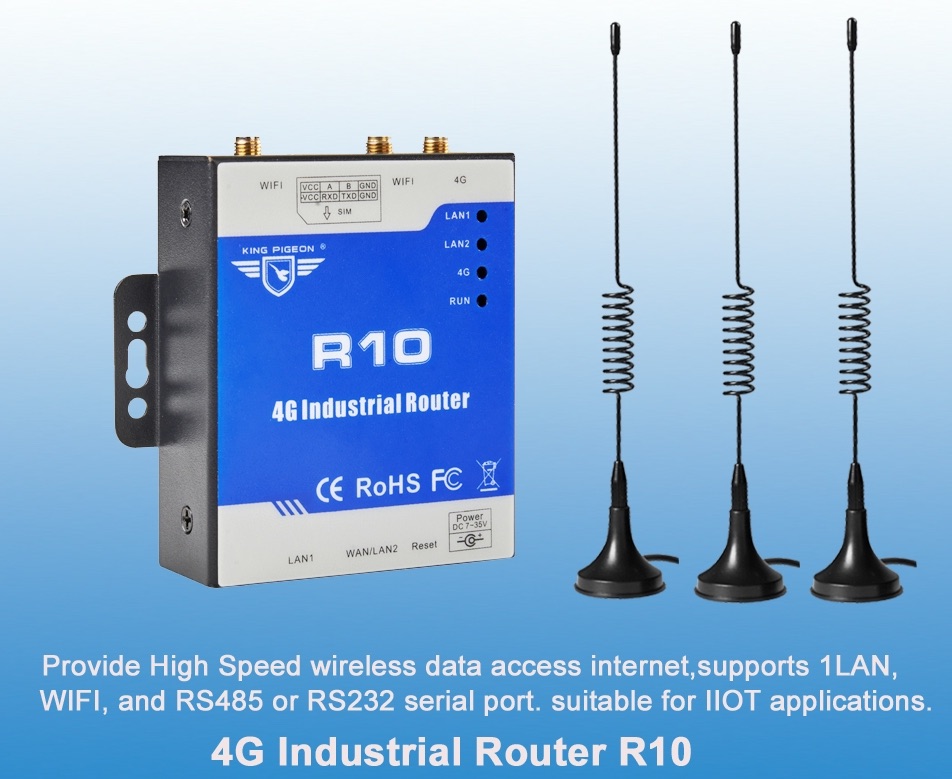 The  4G Industrial Router adopts high-performance industrial-grade 32-bit communication processor and industrial-grade wireless module, with embedded real-time operating system as software support platform, and provides one RS232, Ethernet LAN, Ethernet WAN and WIFI interface, which can be connected at the same time. Serial devices, Ethernet devices, and WIFI devices implement transparent data transmission and routing.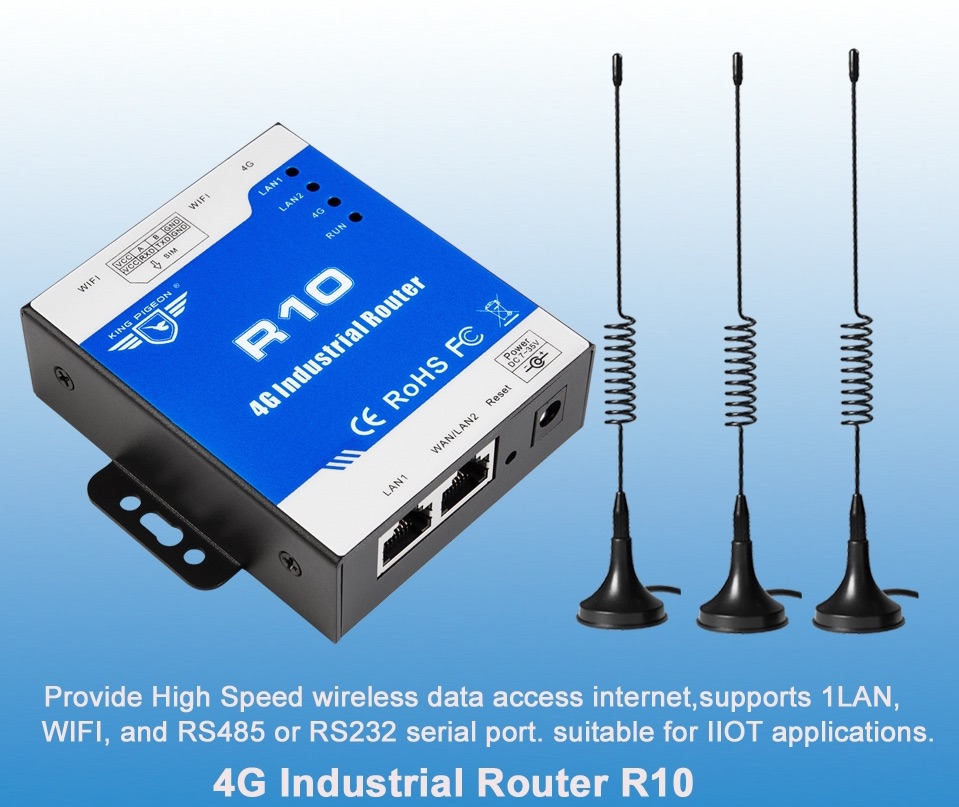 At present, 4G industrial Router grade products have patented technology that maintains stable system, ensuring that the equipment is always online; the whole machine adopts metal casing, anti-interference and radiation protection, and industrial grade design on hardware; system with watchdog protection, and system monitoring protection After strict design, testing and practical application for 10 years, the product performance is stable and reliable.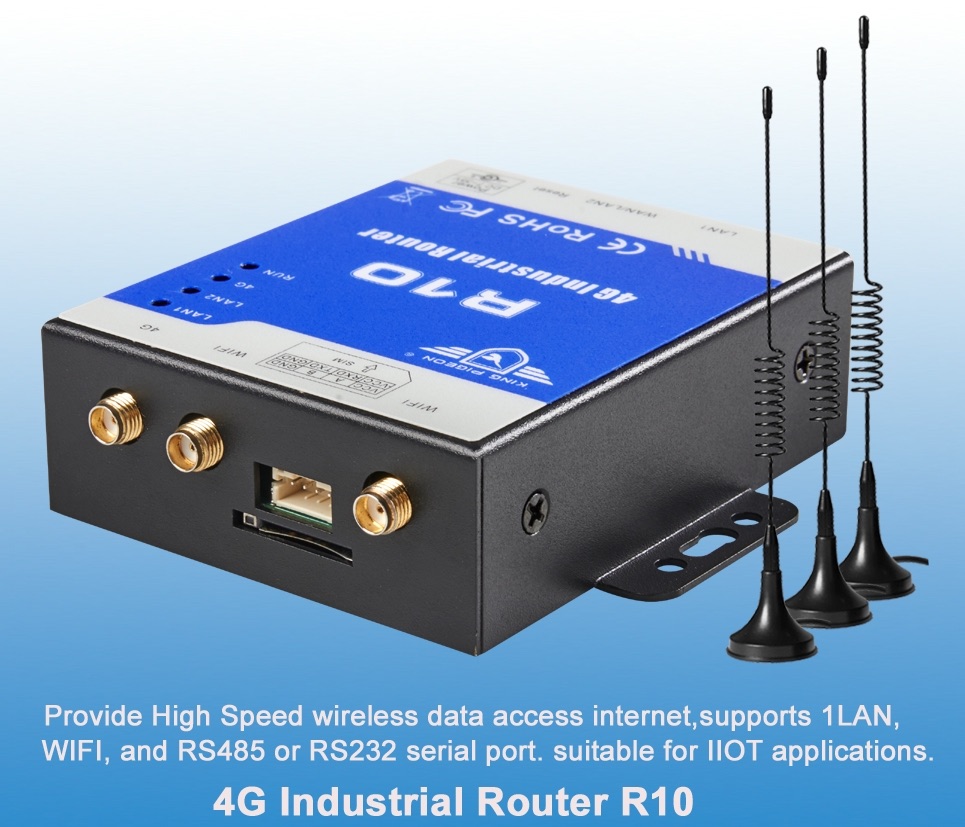 Specification:
Item
Parameter
Description
Power Supply
Input voltage
7-35VDC
Consumption
Standby:12V/50mA; Max.:12V/150mA
Protection
Anti-reverse connection
Ethernet
QTY
R10:1*WAN/LAN,1*LAN
R20:1*WAN/LAN,3*LAN
Type
RJ45 Integrated 10/100M,MDI/MDIX
Function
ETH0: WAN interface / LAN interface
ETH1: LAN interface
ETH2: LAN interface
ETH3: LAN interface
Protection
ESD contact: 8KV, surge: 4KV (10/1000us)
Serial Port
QTY
1 channel
Type
RS485(default)/RS232
Baud rate
110bps-128000bps
Data bit
7,8
Parity Bit
None, Even, Odd
Stop Bit
1,2
Operating mode
AT Command mode,
Transparent transmission mode
Protection
ESD contact: 8KV, surge: 4KV (8/20us)
WIFI
Antenna port qty
2
Antenna port type
SMA hole type
Protocol
802.11a/b/g/n(mixed)
Mode
AP mode, client mode
Frequency
2.4G
Channel
1-13
Security
Open ,WPA,WPA2
Encryption
AES,TKIP,TKIPAES
Connections numbers
32 max
Rate
300Mbps(Max)
Transmission distance
Open space up to 100 meters
SSID broadcast switch
Support
Cellular Network
Antenna port qty
1
Antenna port type
SMA hole type
SIM/UIM card interface
R10: Self-elastic interface;
R20: drawer interface;
Both support 1.8V/3V SIM/UIM card with built-in 15KV ESD protection.
4G (E version)
GSM/EDGE:900,1800MHz
WCDMA:B1,B5,B8
FDD:B1,B3,B5,B7,B8,B20
TDD:B38,B40,B41
4G (AU version)
GSM/EDGE:850,900,1800MHz
WCDMA:B1,B2,B5,B8
FDD:B1,B2,B3,B4,B5,B7,B8,B28
TDD:B40
4G (A version)
WCDMA:B2,B4,B5
FDD:B2,B4,B12
4G (V version)
FDD:B4,B13
4G (J version)
WCDMA:B1,B3,B8,B18,B19,B26
FDD:B2,B4,B12
TDD: B41
4G (CE version)
GSM/EDGE:900,1800MHz
WCDMA:B1,B8
TD-SCDMA:B34,B39
FDD:B1,B3,B8
TDD:B38,B39,B40,B41
SIM/UIM
card interface
Drawer interface / self-elastic interface
Support 1.8V/3V SIM/UIM card with built-in 15KV ESD protection
GPS
(Only for R20)
Antenna Port Qty
1
Antenna Port Type
SMA
Tracking Sensitivity
> -148 dBm
Horizontal Accuracy
2.5M
Protocol
NMEA-0183 V2.3
System
CPU
MIPS CPU,Clock Speed 580Mhz
Flash
128Mbits SPI Flash
Memory
1024Mbits DDR2
Software
Network Protocol
IPV4/TCP/IP/PPPOE/DHCP/DNS/DDNS/NAT/HTTPS/ARP/FTP/telnet/SSH
Firewall
Support IPTABLES /DMZ/DoS defense
VPN
PPTP/L2TP
Remote Management
Support web remote configuration
Port Mapping
Support
SMS Command
Support
System Log
Support
Firmware Upgrade
Support serial port local TFTP/web firmware upgrade
Certificate
MTBF
≥100,000hours
EMC
EN 55022: 2006/A1: 2007 (CE &RE) Class B
IEC 61000-4-2 (ESD) Level 4
IEC 61000-4-3 (RS) Level 4
IEC 61000-4-4 (EFT) Level 4
IEC 61000-4-5 (Surge)Level 3
IEC 61000-4-6 (CS)Level 4
IEC 61000-4-8 (M/S) Level 4
others
CE/FCC/ROHS/3C
Environment
Working Temperature&Humidity
-40~85℃,5~95%RH
Storage Temperature&Humidity
-45~105℃,5~95%RH
Others
Enclosure
Metal
Size
R10 90*86*28 mm
R20 133*110*28 mm
IP level
IP30
Net Weight
R10: 280g  R20: 460g
Installation
Wall-amount/ rail-amount
Features of Cellular M2M IoT RTU:
Support hundreds of 3G/4G wireless modules, plug and play;
Intelligent anti-drop line, support online detection, online maintenance, automatic redial of dropped calls, ensuring that the device is always online
Cloud remote background management, ad push, remote upgrade and remote configuration
Local network PHP browsing and remote synchronization of local storage content;
Support serial port TCP/UDP transparent data transmission or AT command transmission
SMS control route online and offline, short-term notification of routing status
Support VPN security tunneling, including PPTP, L2TP
Complete and robust router function, support multiple Internet access methods: automatic allocation, specified IP, PPPoE
Support IPTABLES firewall, various network protocols
Support serial port local TFTP, web software upgrade
Support for dynamic DDNS: support for peanut shell, 88IP and dyndns domain name service providers;
Additional information
| | |
| --- | --- |
| Band | 3G (W version), 4G (E version) |