Remote Alarm Controller S130
Remote Alarm Controller S130
Rated Voltage: DC 12V/1.5A

 

Range 9-36VDC;

2DIN,compatibles dry and wet contact, 2Relay (240VAC@3A);

Supports input status recovery, external power failure alert by SMS texts;

Up to 3 user's phone number to receive alarm and daily report SMS and 5 user's phone number to receive alarm Call;
The GSM 3G 4G Remote Controller Alarm is an industrial class, high reliability, high stability Remote Control and Alarm Unit.  It embedded 32-Bit High Performance Microprocessor MCU, inbuilt industrial Cellular module, provides 2 relay outputs, 2 digital inputs and USB Serial Port.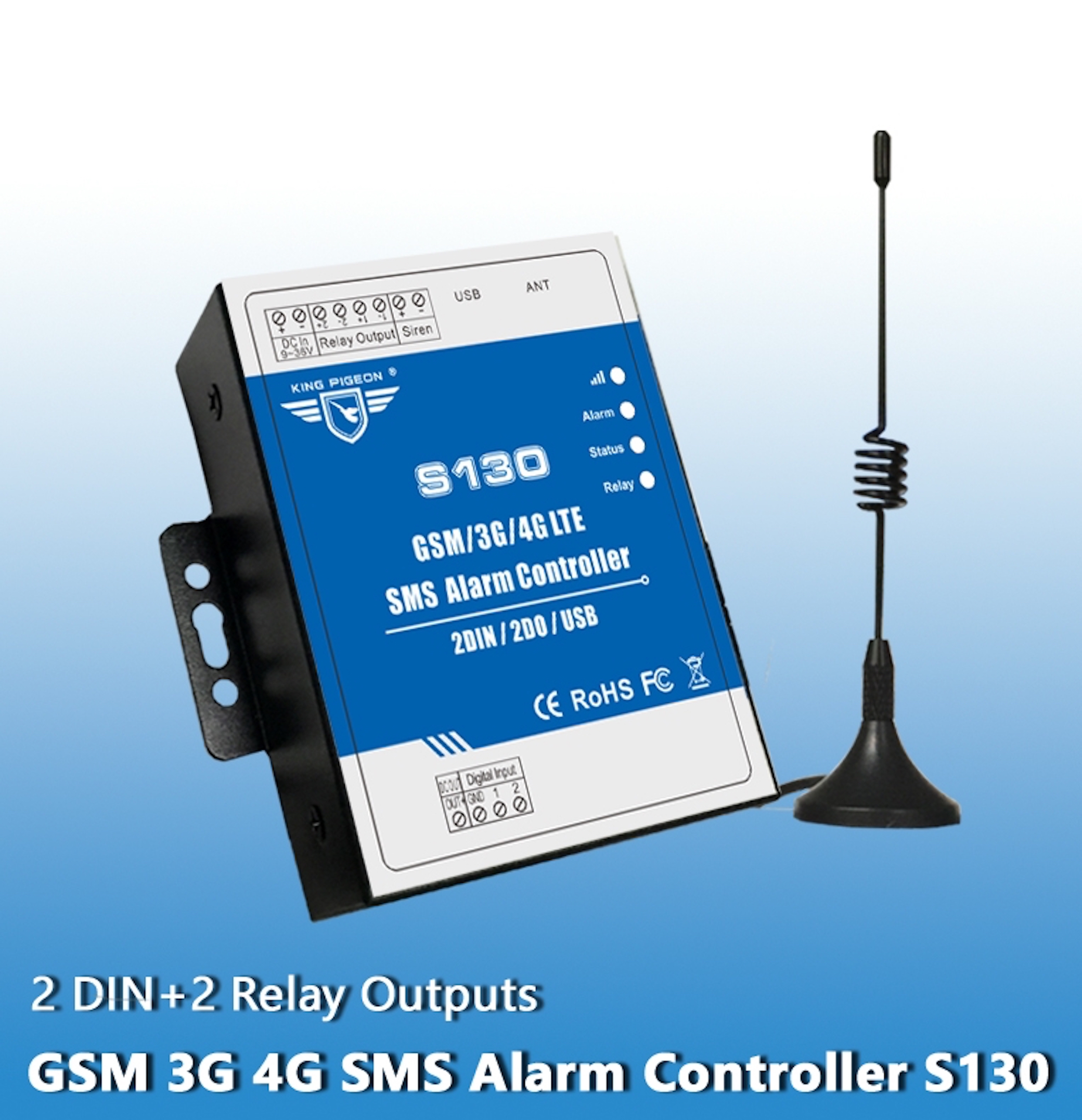 The GSM 3G 4G Remote Controller Alarm allows you to monitor and control an alarm by SMS (Short Message Service) . When any input triggered or recovery, will switch on the relay automatically, and send SMS immediately. This is very useful if you need protect your assets with low cost solution. It is design for working in the harsh industrial application environment, widely used in a variety of industrial automation, security monitoring system, automatically measurement and control system.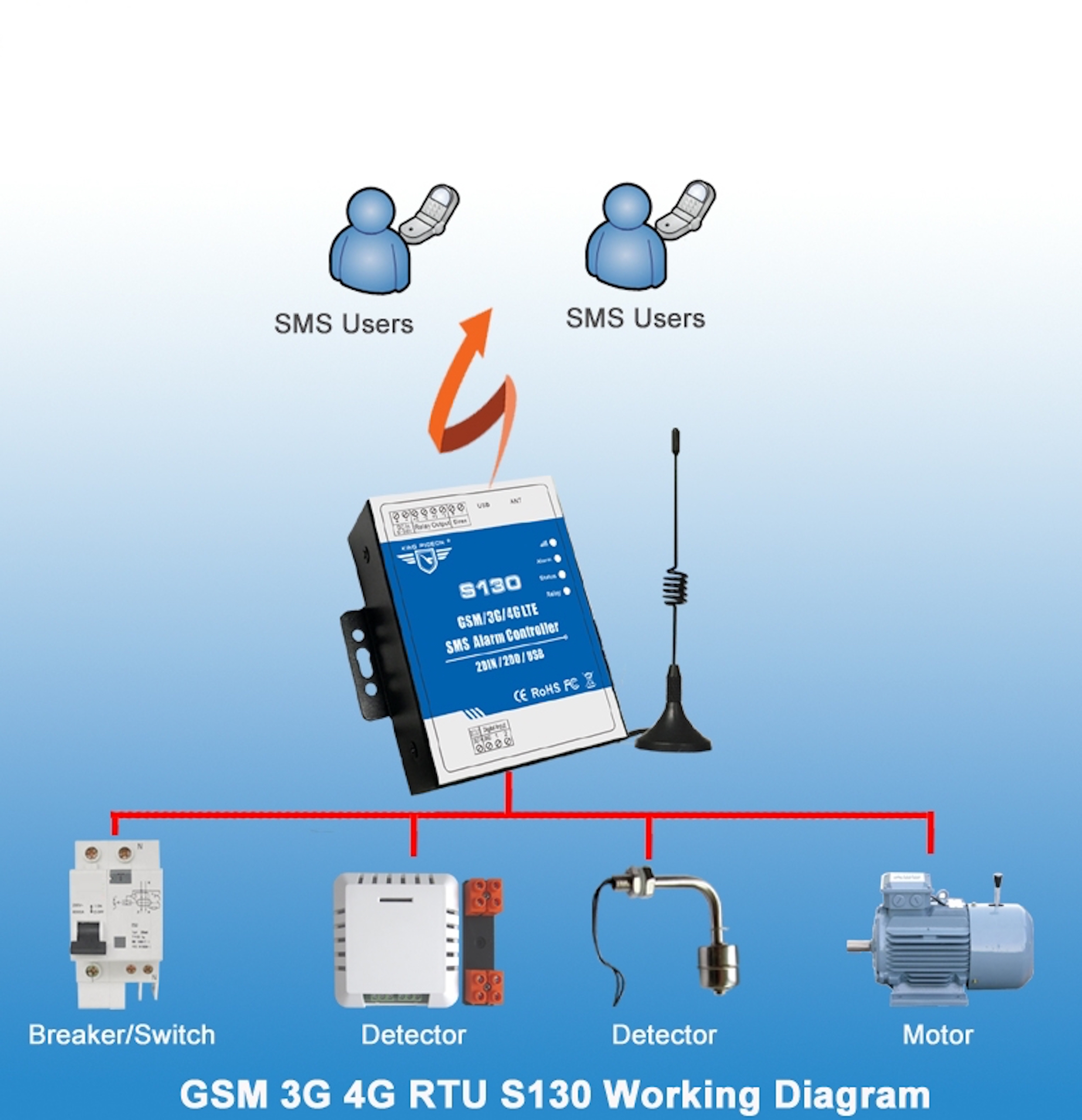 Typically applications:
1.   Security Alarm System applications;          
2.   Supervision and monitoring alarm systems;
3.   Automatic monitoring system;             
4.   Vending Machines security protection;
5.   Pumping Stations, Tanks, Oil or Water levels;
6.   Buildings and Real Estate;
7.   Weather Stations; 
8.   River Monitoring and Flood Control;
9.   Oil and gas pipelines;  
10. Corrosion protection
11. Temperatures, water leakage applications;
12. Wellheads, boat, vehicle;
13. Energy saving, street lights control system;
14. Valve controls;
15. Transformer stations;   
16. Unmanned machine rooms;
17. Control room application;
18. Automation System, M2M;
19. GSM Access Control System, GSM Gate Opener, etc.
Specifications:
| | |
| --- | --- |
| Item |  Reference Scope |
| DC Power supply |  Standard adapter: DC 12V/1.5A  Range 9-36VDC |
| Power consumption |  Standby:12V/70mA;  Working Max.: 12V/300mA |
| Cellular Frequency |  850/900/1800/1900Mhz or 3G or 4G or NB-IoT |
| TCP/IP stack |   |
| SIM interface |  Supporting 3V SIM Card |
| Cellular Antenna |  SMA Antenna interface, 50 Ohm, Gain: 3dB |
| Serial Interfaces |  1 USB Port; |
| Protocols |  SMS |
| Alarm Numbers |  3 SMS Alert phone numbers,5 auto-dial phone numbers |
| Digital Input |  2, Dry Contact, Wet Contact(0~ 0~0.5VDC=Close, +3~+30VDC=Open) |
| Relay Output |  2, Dry Contact, 240VAC@3A |
| Power Outputs |  1 Channel 9-36VDC for external device; |
| Backup Battery |  3.7V 1200mAH |
| Temperature range |  -10-+70 °C |
| Humidity range |  Relative humidity 95% (condensation free) |
| Exterior dimension |  70mm*88mm*30mm |
| Net Weight |  320 g |
Features:
1.    Can be operated from anywhere, no distance limitation;
2.    Quad band 850/900/1800/1900Mhz GSM Module inside.
3.    3G/4G Modules are optional;
4.    Modular design, can easily upgrade the cellular module if network upgrade;
5.    Embedded 32 bit ARM9 MCU, reliable performance with in-built watchdog;
6.    Wide range power supply 9~36VDC with over voltage and phase-reversal protection;
7.    2 digital input, compatibles dry contact and wet contact , support EOL connection;
8.    2 relay output(240VAC@3A), 1 relay output (240VAC@3A) can be switched ON/OFF by sending a SMS text, the other one can be switch on 4minutes if any inputs triggered;
9.    Supports input status recovery, external power failure alert by SMS texts;
10.  Provides 1 channel 9~36VDC power source output for external device, saving wiring cost;
11.  Up to 3 user's phone number to receive alarm and daily report SMS and 5 user's phone number to receive alarm Call;
12.  Provide free charge SMS APP to operations;
13.  Inbuilt large capacity rechargeable backup battery, external power monitoring alarm;
14.  Industrial class design suitable for long time work applications;
15.  Support configure parameters, load profiles and upgrade the firmware via USB port;
16.  Using metal shell, protection class IP30. Metal shell and system security isolation, especially suitable for industrial applications in the field;
17.  Small size, L70 * W88 * H30mm, compatible wall installation and DIN35mm industrial rail installation.