Rugged Industrial Ethernet Switch
Rugged Industrial Ethernet Switch
4 10M/100M adaptive LAN ports
1 way 1000Base-X optical port (For N41 Model)
Support dual power supply redundant input
Support POE power supply (optional)
Rated Voltage: 9~60VDC.
4 LAN ports and 1 optical port industrial Ethernet switch N41 are specially designed for industrial communication, which meets the harsh industrial environment, is stable and reliable, and is used to implement industrial Ethernet equipment data exchange at industrial sites. Provide a safe and reliable solution for the establishment of fast and stable network terminal access networks in industrial applications such as factory automation, intelligent manufacturing, intelligent transportation, and video surveillance.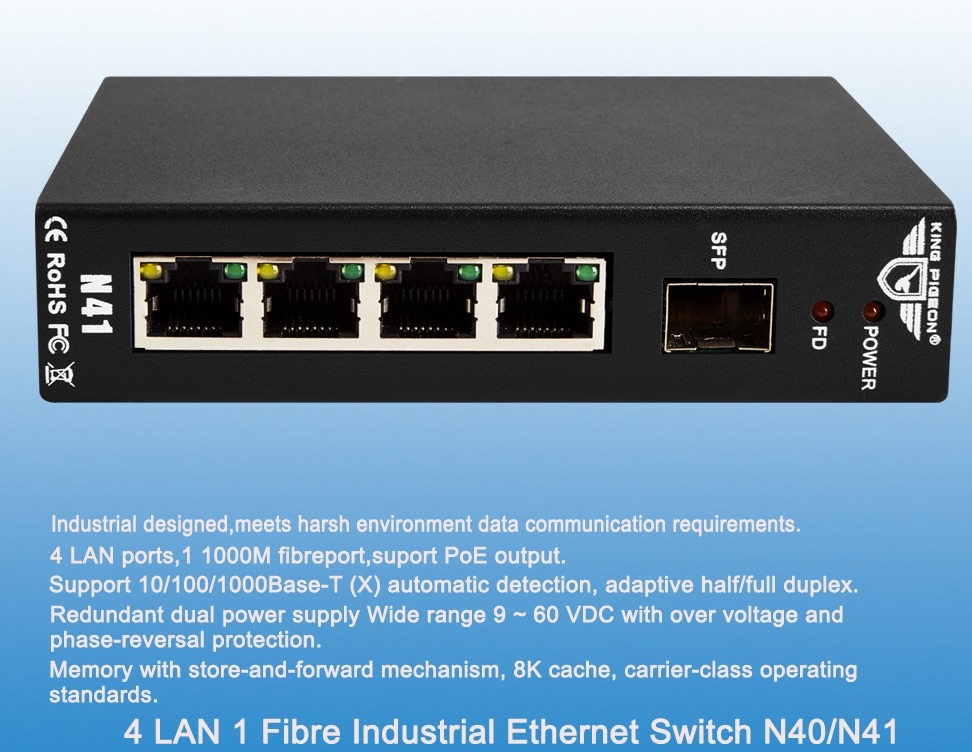 Specification:
Item

Parameter

Description
Standard
Protocol Standard
IEEE 802.3 10Base-T IEEE 802.3u 100Base-T(X) IEEE 802.3x Flow Control IEEE 802.3z 1000Base-T IEEE 802.3af PoE(12.95W) IEEE 802.3at PoE(30W)
Port
SFP
1000Base-X port,SFP slot
RJ45 port
10/100/1000Base-T(X) port,MDI/MDI-X automatically adapt
POE pin
V+,V+,V-,V- corresponding pin 1,2,3,6
Transmission Distance
Cat 5e
100m
Single Mode Fiber
1310nm: 20/40/60Km 1550nm: 80/100/120Km
Multimode optical fiber
1310nm: 2Km
Transmission Performance
Transmission Rate
1.48810Mpps
Transmission Mode
Store-and-forward mechanism
MAC cache
8K
Power requirement
Voltage Input
9~60VDC,redundant dual power input
Current Input
[email protected]
Overload protection
Yes
Terminal Block
1 pluggable 4-pin
Reverse Polarity Protection
Yes
Characteristics
IP Rating
IP30
Dimension
125x105x28mm
Weight
410g
Environment
Operating Temperature
-40℃ ~ 85℃
Storage Temperature
-40℃ ~ 105℃
Relative Humidity
5%-95%(Non-condensing)
Industrial Standards
EMI
EN55022:2006/A1:2007
EMS
IEC(EN)61000-4-2(ESD) IEC(EN)61000-4-3(RS) IEC(EN)61000-4-4(EFT) IEC(EN)61000-4-5(Surge) IEC(EN)61000-4-6(CS) IEC(EN)61000-4-8
Features:
Support full duplex or half duplex mode with automatic negotiation ability.
10/100M Base-T(X) at the same time automatically adapt, full/half duplex MDI/MDI-X automatically adapt, no manual adjustment.
Surge protection,support 4KV common mode, 1KV differential mode surge shock.
Inside take a store-and-forward mechanism, cache 8 K.
Support industrial grade IP30 protection level,can work in -40-85℃ environment.
Redundant dual power supply, working power supply 9-60VDC.